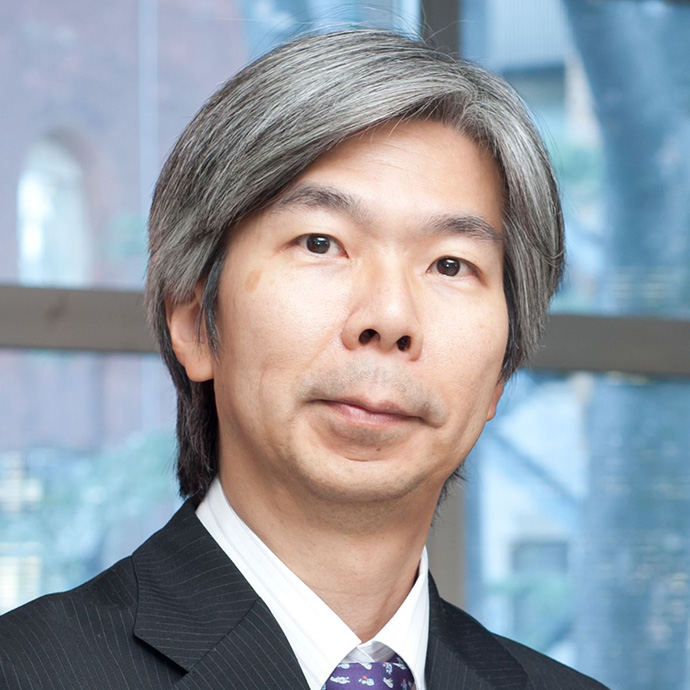 Principal Investigator
Human/Clinical
Professor
Department of Basic Science, Graduate School of Arts and Sciences, The University of Tokyo
Professor
Department of Physics, Graduate School of Science, The University of Tokyo
Neuroscience of Human Language, Arts, and Intelligence
Research
I have provided experimental evidence that language processing is specialized in the human brain, focusing particularly on the function of the "grammar center". Specifically, functional magnetic resonance imaging (fMRI) studies have demonstrated that the left inferior frontal gyrus (IFG) is specialized for the syntactic processing. I have further obtained evidence of a direct causal link between the brain and syntax, such that a lesion in the left IFG is sufficient to cause agrammatic comprehension. Another research direction has been cortical plasticity for second language acquisition, such that activation of the grammar center increases with proficiency improvement at early stages, and becomes lower when a higher proficiency is attained. These results have contributed to neuroscience of language, a basis of human and machine intelligence.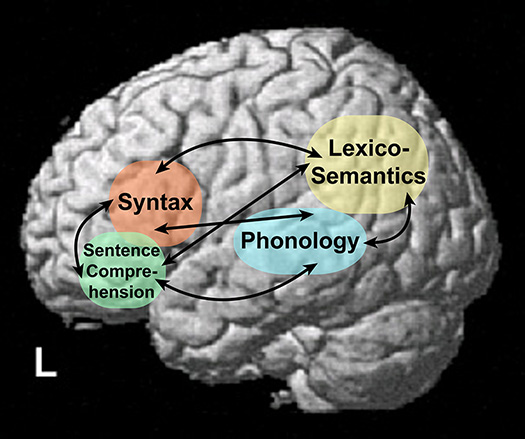 Publications
Yamamoto, K. & Sakai, K. L.: Differential signatures of second language syntactic performance and age on the structural properties of the left dorsal pathway. Front. Psychol. 8, 829, 1-13 (2017).
Tanaka, K., Ohta, S., Kinno, R. & Sakai, K. L.: Activation changes of the left inferior frontal gyrus for the factors of construction and scrambling in a sentence. Proc. Japan Acad., Ser. B 93, 511-522 (2017).
Kinno, R., Ohta, S., Muragaki, Y., Maruyama, T. & Sakai, K. L.: Differential reorganization of three syntax-related networks induced by a left frontal glioma. Brain 137, 1193-1212 (2014).
Ohta, S., Fukui, N. & Sakai, K. L.: Syntactic computation in the human brain: The Degree of Merger as a key factor. PLOS ONE 8, e56230, 1-16 (2013).
Sakai, K. L.: Language acquisition and brain development. Science 310, 815-819 (2005).
Tatsuno, Y. & Sakai, K. L.: Language-related activations in the left prefrontal regions are differentially modulated by age, proficiency, and task demands. J. Neurosci. 25, 1637-1644 (2005).
Hashimoto, R. & Sakai, K. L.: Learning letters in adulthood: Direct visualization of cortical plasticity for forming a new link between orthography and phonology. Neuron 42, 311-322 (2004).
Sakai, K. L., Noguchi, Y., Takeuchi, T. & Watanabe, E.: Selective priming of syntactic processing by event-related transcranial magnetic stimulation of Broca's area. Neuron 35, 1177-1182 (2002).
Sakai, K. & Miyashita, Y.: Neural organization for the long-term memory of paired associates. Nature 354, 152-155 (1991).
Biography
After receiving a Ph.D., M.S., and B.S. from the University of Tokyo in biophysics, I was a research associate in the Department of Physiology, School of Medicine University of Tokyo. During that time, I studied molecular genetics in Drosophila, single unit recording from memory encoding neurons in Macaque, and fMRI studies in Human. In Boston, I conducted MRI and human research as a research fellow in the Department of Radiology, Harvard Medical School, and as a visiting scholar at the Department of Linguistics and Philosophy, Massachusetts Institute of Technology. As an Associate Professor and Professor at The University of Tokyo, I continue basic research on human higher cognitive functions using fMRI, MEG, NIRS, TMS, and other modalities, and teach neuroscience, linguistics, and physics. I directed three CREST grants from JST/AMED.